Product Detail
Product Tags
The One Piece Ball valve as the name suggests is made out of one body piece unlike the 2 and 3 piece. A one piece ball valve has a body and end connections formed from a single piece of material.  This construction presents a comparatively reduced number of opportunities for leakage.  The valve trim and seals are inserted through one of the end connections.  This type of valve will not have a port size equal to the line size. 
The advantage is that the valve will be low cost and robust. As a result of the valve body being one piece is that a smaller ball has to be used leading to a reduced port, more commonly called a reduced bore.
Our Stainless Steel Industrial Ball Valves are long-lasting, hard-wearing, resilient and provide leak proof isolation. Ball valves are often referred to as WOG valves (water oil gas )
The simplicity of the one piece body design tends to make their cost lower than the other versions.
Include inability or difficult with repairing the valve when an issue occurs.  In many cases you have to remove the entire pipe line to service.
1 Piece Stainless steel ball valves with PTFE seals & seats by KX Stainless steel ball valves with PTFE seats & seals offer excellent corrosion resistance for most applications. Stainless steel & PTFE work well in applications including but not limited to water, oil, gas/air, light alkali's and acids, biodiesel, fuels and alcohols. These ball valves are fitted with tight seals to ensure no leakage and a long lasting seal after many years of frequent usage.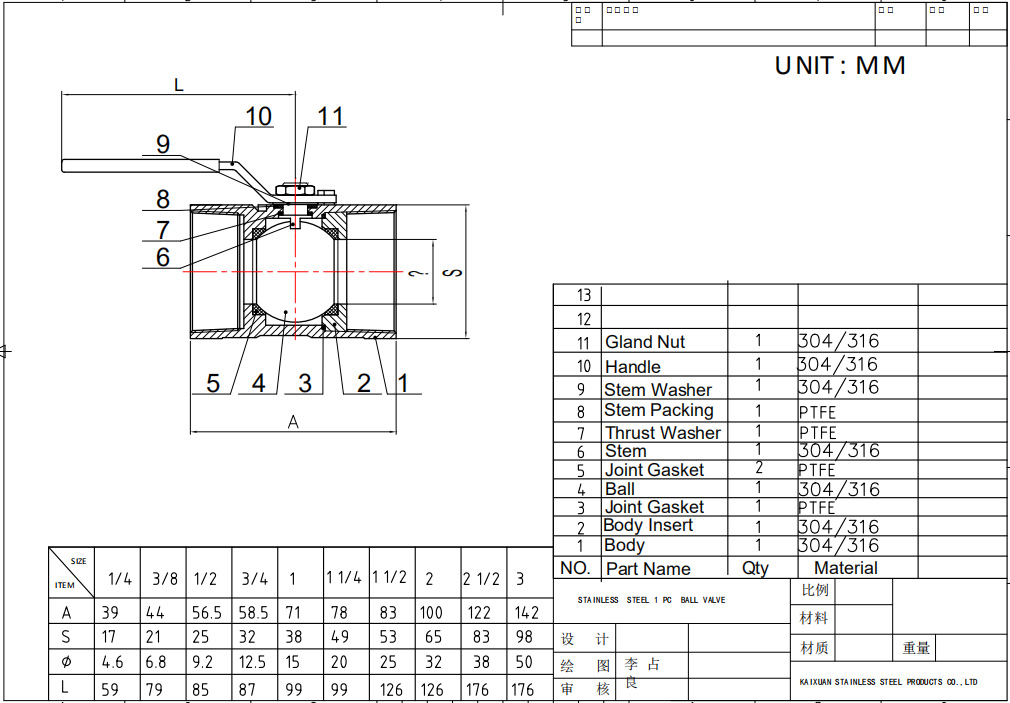 Our listings contain the most common or recommended product selections. If you do not see a Product, Option, or need parts, please contact us and we will be glad to help you.
---
Next:
2PC Ball Valve
---