Product Detail
Product Tags
The 2 piece stainless steel ball valve is probably the most widely used ball valve.
Standard two piece valve bodies are a solution annealed for the highest quality and added strength. All body castings are marked with a foundry head number for full traceability.
These valves offer quarter turn operation and low operating torque. The valve features live-loaded, self-adjusting stem seals that automatically adjust packing to compensate for changes in wear and temperature.   Other features include replaceable seats and seals, anti-static devices, blowout proof stems, and safety latch handles.
The two piece ball valve has one body joint which means the body is composed of two pieces, hence the name "two piece". This 2 piece body allows a larger ball to be installed at the time of manufacture, which makes this a full bore or full port ball valve.Full bore means that the bore hole in the ball has the same inside diameter as that of the piping it is connected to.
Being two-piece threaded ball valves they are quick to install and easy to use, The 2 PC ball valve is the best priced full port ball valve (full bore), allowing the inside diameter of the pipe to remain constant and unrestricted. This means that the 2 piece SS ball valve has no pressure drop and keeps the flow rate high.
Why Are 2 Piece Ball Valves The Most Popular Valves? 
Three factors make them popular.
First, a full unrestricted flow that allows no product restrictions through the valve.
Second, the three piece design and the removal of a minimal number of bolts allows service to be performed without removing the complete valve from the line.
Third, it is the price. they are the best price ball valves with a full port or full bore.
The 1 Piece Ball Valve is better priced, however it is a reduced port.
The 3 Piece is also a full port, however the price is higher.
Water
Petroleum
Chemical
Light industry
High-voltage equipment
Pharmaceutical
Paper
Other pipe systems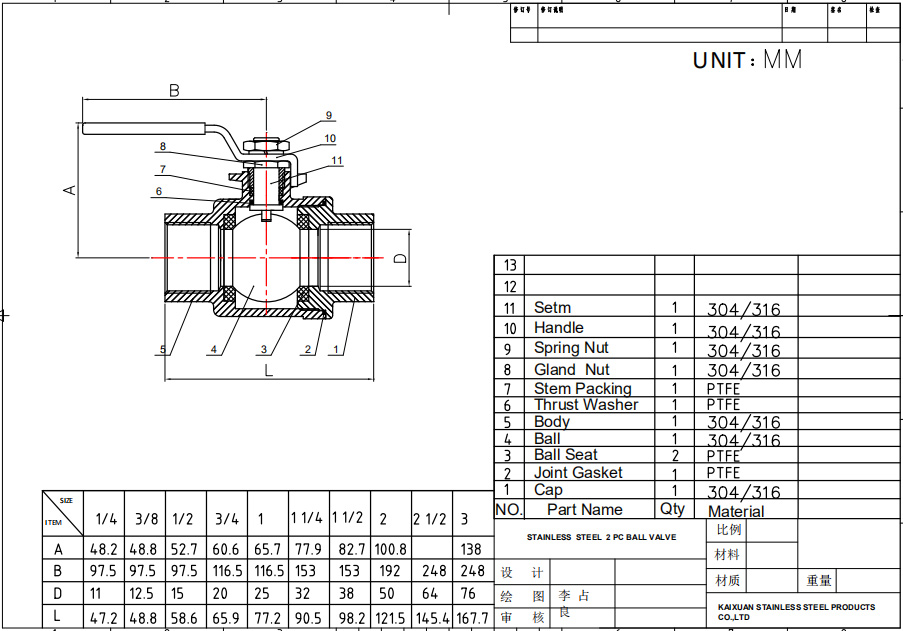 Our listings contain the most common or recommended product selections. If you do not see a Product, Option, or need parts, please contact us and we will be glad to help you.
---
Previous:
1PC Ball Valve
Next:
3PC Ball Valves
---